Why does this matter?
Residential space, commercial activities, and related energy use account for nearly 43% of the United States environmental damaging and climate altering carbon emissions. Energy to power commercial and residential spaces, such as a University, generally comes from a mixture of sources. Because about 50% of our energy is derived from natural gases and coal (less clean energy sources), there are many negative effects on human health, the global climate, the outdoors, and financial implications. At Loyola Marymount University we recognize that on campus energy use contributes to over 50% of our campus carbon footprint. Furthermore, energy costs are increasing. Thus we are working on numerous alternative energy projects to move us towards carbon neutrality.
What is LMU doing?
In 2003 -2005, Loyola Marymount University installed $4.5 million worth of solar panels on three of its largest buildings - Gersten Pavilion, University Hall, and the Von der Ahe Library. It was the largest solar electric rooftop system at any university in the world and the largest system in Southern California at the time. Due to an innovative partnership between LMU, the Los Angeles Department of Water and Power (LADWP), the Southern California Gas Company, and solar-electric company PowerLight, the project expense was offset by rebates, resulting in an actual cost to the University of only $325,000. Encompassing a combined 81,000 feet of rooftop, the total project generates over 1,100,000 kilowatt hours annually. In 2009, Gov. Arnold Schwarzenegger and Secretary of the Interior Ken Salazar signed an initiative on top of LMU's own University Hall, using our solar model as a platform, to spur the development of environmentally appropriate renewable energy on U.S. lands in California.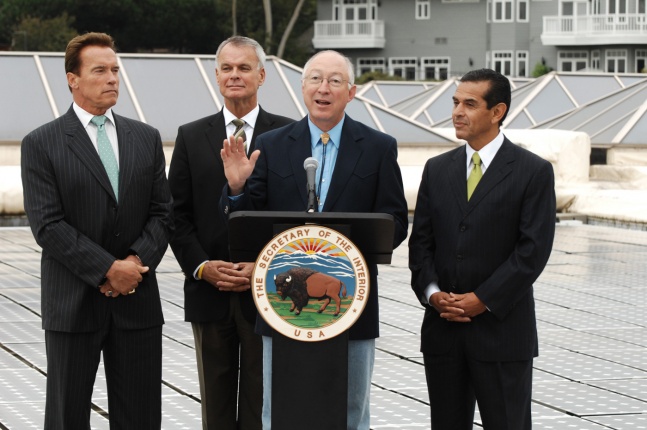 Secretary Salazar, Gov. Schwarzenegger Sign Initiative to Expedite Renewable Energy Development
Since fall of 2014, the University started to install Zon Powersol stations, which are off the grid power charging stations for mobile devices. These devices feature a battery pack that fully charges in about 5 hours and can simultaneously charge 3 devices as fast as a wall socket. The University currently has 12 of these systems (6 around The Lair and 6 around various housing locations) to help reduce plug loads across campus and encourage students to work outdoors. Together these systems can offset nearly 1,000 kilowatt hours a year of energy use compared to being plugged into a normal wall outlet.
In 2015, as part of the construction of a ground-breaking LEED Gold Life Science Building, LMU continued to solidify its commitment to alternative energy by adding 7,982 square feet of additional rooftop panels, generating an additional 200,000 kilowatt hours annually.
With all these solar projects. LMU produces approximately 1,335,000 kWh energy a year. Not only are these projects consistent with LMU's mission - they have also proven to be a sound business practice. By using on-site solar generation, LMU has been able to effectively integrate this solar electricity into its energy mix, thereby lowering operating costs and reducing purchases of expensive peak electricity. In addition to generating electricity, the solar roof system provides thermal insulation and protects the roof from weather and UV radiation, resulting in decreased heating and cooling energy costs and extended roof life. On average, the solar roof system saves the university more than $210,000 a year.
Our total campus annual kWh yield of electricity generated is equivalent to greenhouse gas emissions from:
24,706 incandescent lamps switched to CFLs
1,014,504 pounds of coal burned
39,354 propane cylinders used for home barbeques
106,279 gallons of gasoline consumed
| | Life Science | Von der Ahe | University Hall | Gersten Pavillion | Zon Umbrellas | Campus Total |
| --- | --- | --- | --- | --- | --- | --- |
| Install Date | 2/16/2016 | 4/1/2003 | 4/1/2003 | 5/1/2005 | Fall 2014 | N/A |
| Square Footage | 7,983 | 13,540 | 43,330 | 25,000 | N/A | 89,853 |
| Type of Module | Sunpreme SNPM GxB - 280 watt | Shell Solar SP-75 - 75 watt | Shell Solar SP-70 - 70 watt | Double Shell SP-70 & SQ-85 - 70 watt | 12 Powersol Umbrella Off-Grid Charging Stations - 54 watts each | N/A |
| Number of Panels | 451 | 1,664 | 5,330 | 1,209 | 192 | 8,846 |
| Annual Yield kWh (Calculated) | 200,690 | 194,050 | 583,715 | 355,706 | 1,011 | 1,335,172 |
What can you do?
When you're on campus, charge your devices using the solar chargers outside.
Encourage your state and the government to adopt clean power programs via participating in campaigns.
There are many programs and incentives for businesses and homes to adopt solar.