The University is committed to environmental sustainability as reflected in the strategic plan, master plan, and public commitments. The University has become a leader in sustainability and currently has over 90,000 square feet of solar panels on campus and recycles over 75% of its waste, among many other green campus initiatives. These initiatives include an annual Greenhouse Gas inventory and biannual Climate Action Plan. Through these initiatives, the University has set a goal of climate neutrality by 2050.
Further, reaffirming its commitment to social justice and environmental sustainability, the University signed onto the United Nations-supported Principles for Responsible Investment in 2017. This action places the University among just a handful of university signatories across the country, and more than 1,700 investors, financial firms, and other institutions, who have agreed to the global network's guidelines for incorporating environmental, social, and governance factors into investment decisions.
The University is issuing the Bonds as "Green Bonds" due to the nature of the use of the proceeds for environmental beneficial projects. The University's designation is designed to track the generally accepted Green Bond Principles updated as of June 2018 and as promulgated by the International Capital Market Association.
Green Bond Spend Down
CEFA 2018A (Taxable)
CEFA 2018B (Tax Exempt)

Cost of Issuance & Underwriter's Discount

$ 229,912.52

$ 451,385.50

Capitalized Interest Fund

$ 1,980,087.48

$ 4,000,430.00

Project Funds Expended

$ 239,050.00

$ 496,240.57

Project Funds Remaining

$ 26,760,950.00

$ 59,503,759.43

Total Bond Proceeds

$29,210,000.00
(71-2-63239-88890)

$64,451,815.50
(71-2-63240-88890)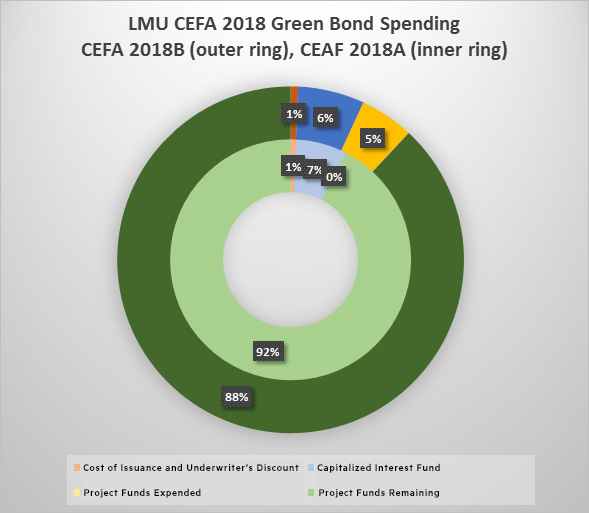 California Educational Facilities Authority Revenue Bonds for Loyola Marymount University
Total Sources
| | Series 2018A | Series 2018B | Total |
| --- | --- | --- | --- |
| Par | $29,210,000.00 | $57,330,000.00 | $86,540,000.00 |
| Premium | - | 7,121,815.50 | 7,121,815.50 |
| Total Sources | $29,210,000.00 | $64,451,815.50 | $93,661,815.50 |
Total Uses
| | Series 2018A | Series 2018B | Total |
| --- | --- | --- | --- |
| Project Fund | $27,000,000.00 | $60,000,000.00 | $87,000,000.00 |
| Capitalized Interest Fund | $1,980.087.48 | $4,000,430.00 | $4,000,430.00 |
| Costs of Issuance(1) | 121.865.29 | 239,322.94 | 361,188.23 |
| Underwriters' Discount | 108,047.23 | 212.062.56 | 320,109.79 |
| Total Uses | $29,210,000.00 | $64,451,815.50 | $93,661,815.50 |
Purchase Price
| | Series 2018A | Series 2018B | Total |
| --- | --- | --- | --- |
| Bond Par | $29,210,000.00 | $57,330,000.00 | $86,540,000.00 |
| Premium | - | 7,121,815.50 | 7,121,815.50 |
| (Underwriters' Discount) | (108047.23) | (212062.56) | (320,109.79) |
| Purchase Price | $29,101,952.77 | $64,239,752.94 | $93,341,705.71 |